Art Workshop
Birthdays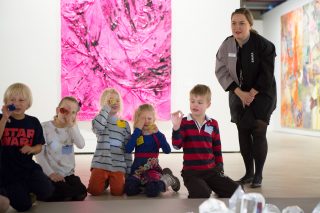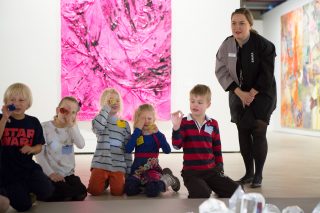 Have fun and be inspired by art with your friends. Host a one-of-a-kind birthday party at EMMA! You can choose between two themes.
A children's birthday party at EMMA is an unforgettable occasion for everyone and an easy and carefree option for parents. The birthday party is designed for children aged 4–12. The content of the party is tailored to suit the group and is conducted in cooperation with the restaurant Lumière WeeGee.
Duration of the birthday party is 2 hours. The birthday party begins with interactive guidance in current exhibitions and in the Touch exhibition. After the guided tour, the group will be guided to an art workshop with a theme program.
You can choose between two themes and look menu options:
TASTESCAPES
How does art taste? The birthday party begins with a guided tour that introduces guests to the wonders and stories of art. In the workshop session at the end of the tour, children create art from a palette of foods with different colours and tastes from savoury to sweet. The birthday menu consists of the same foods as the workshop activities. When finished, the tasty artworks are photographed and then eaten!
UPCOMING! SALT DRAWING from 26th of February 2020
Book a birthday party for your child where everyone can have a fun, relaxing time enjoying and making art! The birthday party is all about togetherness and artistic, immaterial exploration.  
The party format introduces artworks in a playful manner, using different senses. We enter the exhibition space and consider what an artwork sounds, feels and smells like. The celebration continues in a workshop where we create unique patterns and pictures in salt based on shared mental images. At the end, we create a birthday art-piece with the participants, with a photo to take along as a memento. 
The salt drawing birthday is a great way to celebrate together. It offers new experiences and new ways of observing and making art!  
Are you organizing a birthday at EMMA? You may send these printable invitations to your guests.
Related content
These might interest you also