Art Workshop
Birthdays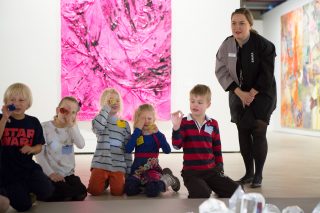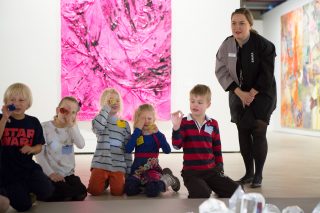 Have fun and be inspired by art with your friends. Host a one-of-a-kind birthday party at EMMA!
A children's birthday party at EMMA is an unforgettable occasion for everyone and an easy and carefree option for parents. The birthday party is designed for children aged 4–12. The content of the party is tailored to suit the group and is conducted in cooperation with the Exhibition Centre WeeGee's restaurant.
Duration of the birthday party is 2 hours. The birthday party begins with interactive guidance in current exhibitions and in the Touch exhibition. After the guided tour, the group will be guided to an art workshop with a theme program.
You may send these printable invitations to your guests.
NEW! Love that Colour!
Book a birthday party for your child where everyone can have a fun, relaxing time enjoying and making art! The birthday party is all about togetherness and artistic, immaterial exploration.
The art workshop begins with a tour of the exhibitions, providing us with an opportunity to experience art through colour. In the art workshop, we will continue with playful colour experimentations by demonstrating different colour phenomena and theories. Finally, everyone will create their own composition of objects with a focus on colours, light and reflections. The compositions are constructed on transparent cubes and then photographed.
Love that Colour! 150€ + serving according to the number of children 10€/child.
Related content
These might interest you also