Espoo Museum of Modern Art
Art Workshop
Art workshops for children and teens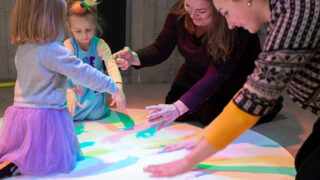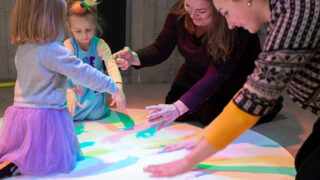 Discover new aspects of art and gain fresh insights into EMMA's exhibitions by looking, doing and exchanging ideas in an interactive group workshop.
Book a workshop for your daycare group, primary, secondary or high school class, or for students in other secondary education. Art workshops are also suitable for hobbyists. No prior experience is needed.
The duration of the art workshop is 1,5 hours. The art workshop begins with interactive guidance in current exhibitions and in the Touch exhibition. After the guided tour, the group participates in a workshop with activities related to the chosen theme.
NEW! Impressions
The workshop takes the form of a quest in the museum, searching for exciting themes or motifs in the artworks. What familiar or unusual things can you find that artists have used to represent their ideas? The workshop is structured of stops where participants build their own characters by drawing, moulding and performing. The workshop ends with a participatory and fun review of the gallery of characters.
Love that Colour!
The art workshops invite us to experience art through many senses, and to having a go at making immaterial art. Spending time together in a relaxed atmosphere is a key part of the workshop.
The art workshop begins with a tour of the exhibitions, providing us with an opportunity to experience art through colour. In the art workshop, we will continue with playful colour experimentations by demonstrating different colour phenomena and theories. Finally, everyone will create their own composition of objects with a focus on colours, light and reflections.
–
The maximum group size is 20 persons. Groups with more than 20 persons are divided into two smaller groups, each with its own guide. One group begins with the exhibitions and the other with the workshop; the groups then swap. The duration of the art workshop is 1.5 hours.
Related content
These might interest you also