Espoo Museum of Modern Art
EMMA announces 2024 exhibition programme!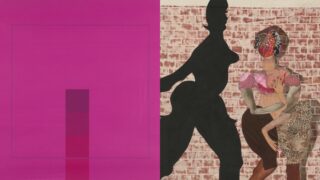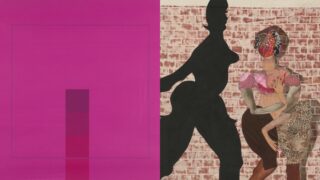 Next year, EMMA will dive into the multidimensional world of concretism in the work of modernist and contemporary artists. Exhibitions will be seen by Monika Sosnowska from Poland, Tschabalala Self from the USA, and Ulla Wiggen from Sweden. The featured artists will offer engaging content, striking spatial displays and multisensory experiences with their creative interpretations of our contemporary reality.
Kicking off EMMA's year of exhibitions is Experiments in Concretism, which showcases the multi-faceted world of concretist art by highlighting its expressive use of materials, vibrant palette, and playful treatment of form. The exhibition takes visitors on an experiential journey into the long tradition of concretism and its contemporary variations. Many of the artworks are spatial, experiential and activate the visitor's faculties of perception. The show simultaneously celebrates the 100th anniversary of the birth of Lars-Gunnar 'Nubben' Nordström (1924–2014), a pioneer of Finnish concretism. Experiments in Concretism is curated from EMMA's collections, introducing a selection of new works acquired or commissioned especially for this exhibition. Featuring nearly fifty artists, the exhibition places a special focus on the various ways in which contemporary artists reinterpret and comment on modernism.
Experiments in Concretism will engage in an intriguing dialogue with a coinciding exhibition by the Polish sculptor Monika Sosnowska (b. 1972). Sosnowska will present one of her signature architectural interventions in EMMA's Arena space for experimental art, inviting the viewer to see the Exhibition Centre WeeGee's architecture and history from a surprising new perspective. The exhibition will consist of six large-scale sculptures made of ordinary construction materials such as steel beams, concrete and rebar. Sosnowska's sculptural idiom is visibly influenced by modernist movements such as constructivism, minimalism and conceptual art.
Around the Way by US artist Tschabalala Self (b. 1990) is the next upcoming exhibition in InCollection series, which showcases the work of visionary contemporary artists. Self is known for her multi-material paintings dealing with the intersections of race and gender. Through her art, Self creates new narratives for bodies that have been both exalted and objectified in Western imagery and art history. Self's paintings and sculptures will unfold in an engaging spatial display consisting of myriad patterns, colours and materials in EMMA's concrete-dominated exhibition space. Self is the seventh artist to be featured in the InCollection series. As part of the InCollection collaboration, a new work is commissioned annually for the Saastamoinen Foundation's collection from a contemporary artist. An exhibition is curated around the commissioned piece in interaction with the museum architecture.
New works of media art acquired for the Saastamoinen Foundation's collection will be introduced through a series of three video pieces curated by artist Jani Ruscica. The series kicks off this November with Rashaad Newsome's Untitled (New Way) (2009), to be followed in spring 2024 with Mashes of the Afternoon (2018) by Loretta Fahrenholz and The Myth of Progress (Moonwalk) (2008) by Klara Lidén.
In autumn, EMMA's gaze turns inward with a retrospective presenting the lyrical, intricate work of the Swedish artist Ulla Wiggen (b. 1942) spanning from the 1960s to the present day. Providing an extensive overview of Wiggen's career, the exhibition Passage features her scientifically elaborate early paintings of electronic components, her 1970s portraits and landscapes, and her more recent detailed studies of the human body and internal organs, culminating in her Iris paintings, which have recently gained widespread international recognition.
As part of its performing arts programme, EMMA presents SURFACE – Change Lies in Time, a meditative series of performances combining sound and movement by the Ona Kamu collective, as well as Introducing: Rest, a multi-sensory rest simulator designed to calm the nervous system created by composer and musician Aino Venna and Ekaterina Shurkova, a doctor of cognitive neuroscience. 
Next March our popular Children's Museum Festival will again offer a weekend of music, play and fun activities themed around art, architecture and history. The event is co-hosted as a collaboration between Tapiola museums in Ahertajantie.
Exhibitions in 2024
Media works
Read more